01 Jan 2015 Simple graphics in Science
I can talk for hours on technical topics such as adhesion science. Because I have a big picture of what I'm saying I tend not to get too lost. But of course the people I'm talking to don't have that big picture so they might not "get" what I'm saying or where I'm going.
So I'm trying to do something about this. I want to be able to describe my big picture in no more than 9 little graphics which have a simple image and a few words. But there's a problem. I don't have graphics skills. Sure I know how to run graphics programs and can create adequate graphics when I need to. But I lack the natural graphics gift that others have. With the internet I could hook up with brilliant graphic artists-for-hire anywhere in the world. But I wanted a personal touch so tried to see if there was a suitable artist in my home town of Ipswich. A quick email after a web search got an instant response from one bright, young artist. I popped down on my bike and over a cup of coffee we worked out the sort of things I wanted to do. A week later I spent the day with him, marvelling how he could take my ideas and with a few squiggles in Illustrator could create exactly what I wanted.
The result was the whole of adhesion science in 9 little graphics.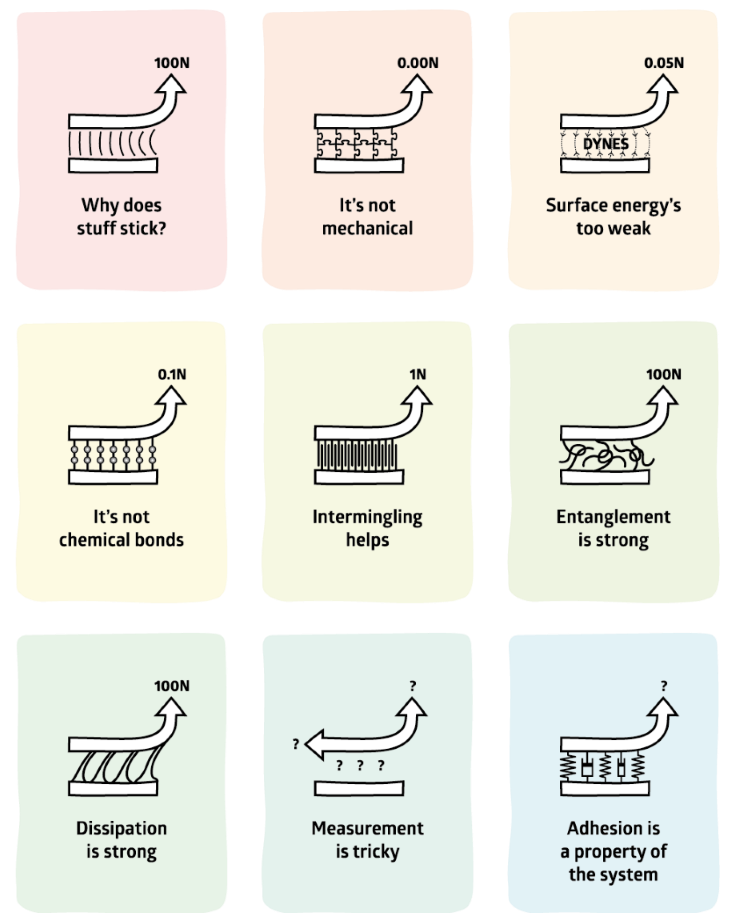 I find this very powerful and it forms the backbone of my Practical Adhesion website. And the individual graphics can be used throughout the site to emphasise key themes and provide navigation markers so the user isn't quite so lost in a mass of ideas. Unfortunately the idea for the graphics came long after I sent my Adhesion Science book to the publisher so I won't be able to provide the navigation within the book - but then books tend to be easier to navigate.
My next task is to do the same for the vast Practical Surfactants website. I will also be able to include them in the Surfactant Science book I'm currently writing.
This is all a great adventure for me. I don't really know what I'm doing - as I said, I'm not (alas) a "graphics" person. But throwing myself into something and seeing what happens has generally turned out for the best.