Cc Values
Quick Start
To use HLD we need the characteristic value of our surfactant, its Cc. We might be able to find it in the list below. We might be able to measure it. But if it's a mixture, or if we want to tune the Cc rationally, then we need to calculate the value of the mixture. Easy! It's the molar-based average of the individual surfactants, so we need the weight % and the MWts of the two surfactants.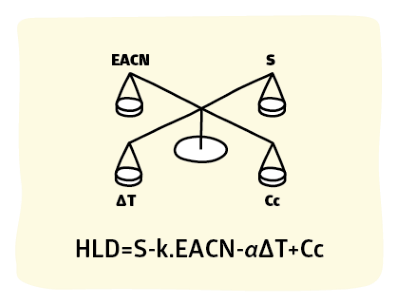 Each surfactant is characterised by a Cc value. A very hydrophilic surfactant such as SLS has Cc = -2.3 and a hydrophobic surfactant such as AOT has Cc = 2.6. But what is Cc? The name was originally Characteristic Curvature which seemed a good idea at the time. There are some thermodynamic reasons why the name might be thought appropriate. But the truth is that the name really has no helpful meaning. Let's just call it Cc (perhaps imagine it meaning Characteristic) because that's what is generally used in the literature.
More important than the name are the values. Heroic research over a number of years has produced a set of values for some common surfactants. Not all the values are perfectly accurate (partly because "the same" surfactant from one supplier can often be different from "the same" surfactant from another supplier), but they are generally a good starting point. Below is a list of values assembled with "best endeavours" - feel free to suggest better values or to add new ones to the list.
Cc of blends
If your surfactant isn't quite what you want (or to put it another way, if you want to tune your system by varying the surfactant) a most convenient fact is that the Cc of a mixture of surfactants is the mole weighted average of the Ccs of the surfactants. Because it is the mole-weighted average the MWt of each surfactant needs to be known. You get more "bang for your %Cc" with a small MWt surfactant. The calculator at the top of the page does the hard work for you.
To get used to the calculations it can be a good idea to set % = 50 and Cc1 = -1 and Cc2 = 1. If the MWt values are identical then the Cc of the mix should be 0. If you increase the MWt of #1 then there will be fewer moles of #1 in the mix so the Cc increases towards the value set by #2. Decreasing the MWt of #1 sends the Cc towards that of #1. The effect of the MWts of surfactants are another complication of surfactant space which often causes confusion. With HLD apps the molar mixing rule is always taken into account.
Surfactant
Cc
Surfactant
Cc
C6EO2
2.4
SDHS Na Dihexylsulfosuccinate
-0.92
C6EO3
0.1
SDBS Na Dodecyl Benzene Sulfonate
-0.9
C6EO4
-1.6
SDOS/AOT Na Dioctyl sulfosuccinate
2.55
C8EO3
1.8
SDS/SLS Na Dodecyl Sulfate
-2.3
C8EO4
0.3
Sodium Octanoate
-3
C8EO5
-1
Sodium Decanoate
-2.55
C10EO4
1.3
Sodium Didecanoate
-2.1
C10EO5
0.1
Sodium Hexadecanoate
-1.2
C10EO6
-0.9
Sodium Stearate
-0.75
C12EO4
2
Sodium Oleate
-1.7
C12EO6
-0.2
Sodium Dimethylnaphthalene sulfonate
-3.5
C11.5EO5
0.31
Sodium Strearoyl Glutamate
-5
C14EO7
-0.7
NaC12PO4Sulfate
-1.9
iC13EO8
-0.1
NaC12PO6Sulfate
-1.6
C12-16EO14
-2.9
NaC12PO8Sulfate
-1.3
C9PhEO2
1
NaC12PO10Sulfate
-1
C9PhEO5
0.12
NaBranchedC12PO4Sulfate
-1.4
C9PhEO9
-1.6
NaBranchedC12PO6Sulfate
-1.1
PolySorbate 20
-7.9
NaBranchedC12PO8Sulfate
-0.8
PolySorbate 80
-3.7
NaBranchedC12PO10Sulfate
-0.5
Sorbitan Monolaurate
3.5
NaBranchedC14PO8Sulfate
-0.6
Sucrose Palmitate
-0.8
NaC12PO14EO2Sulfate
0.74
Sucrose Distearate
4
NaC10PO18EO2Sulfate
1.99
Rhamnolipid 50:50 R1:R2
-1.4